Use at least 5 different spices daily for their anti-cancer and anti-oxidant benefits.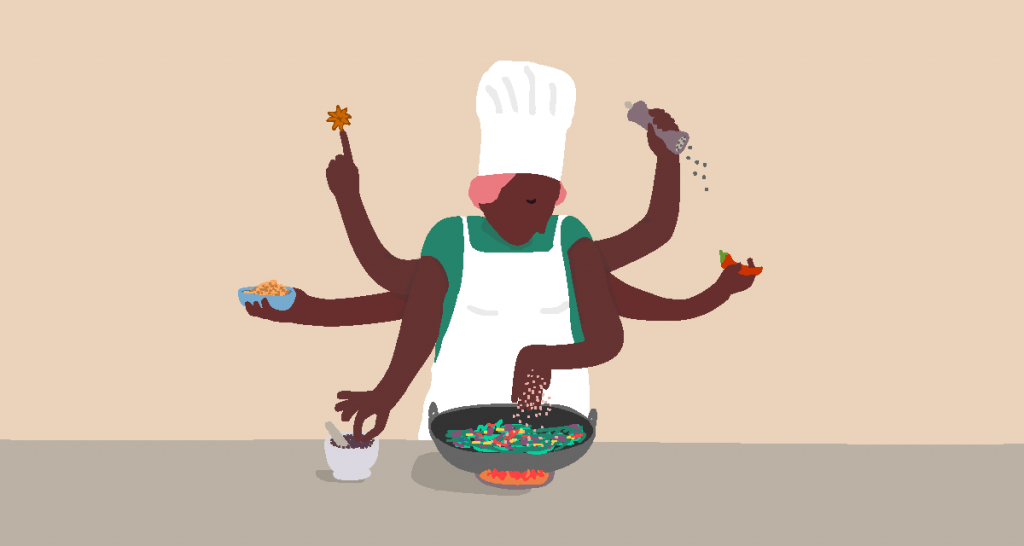 Have you checked your spice cupboard lately? Spices and herbs can do a lot more than add aroma and taste to your cooking – they can also promote heart health, fight cancer, reduce inflammation, and more.
How Do Herbs and Spices Promote Health?
Plants have evolved over the millennia to protect themselves from the sun's radiation, from insects and from bacteria and fungi. Plants manufacture various compounds: Alkaloids, Flavonoids, Phenols, Proanthocyanins, Tannins, Volatile oils and more. When we add herbs and spices containing these compounds to our food, we enjoy the synergistic benefit of their anti-microbial, antioxidant, and anti-tumorigenic properties.
Spices and herbs contain high amounts of anti-oxidants which contribute to keeping our cells healthy. The richest of these, in descending order, out of 425 tested, are cloves, peppermint, allspice, cinnamon, oregano, thyme, sage, rosemary and saffron.
Many spices have been found to inhibit NFkB, known as cancer's master switch, which activates more than 500 different gene products involved in tumour proliferation, survival, angiogenesis, inflammation, invasiveness and metastasis. The following spices inhibit NFkB and can be included in our daily diets: anise, basil, black pepper, caraway, cardamom, chili pepper, cinnamon, clove, coriander, cumin, fennel, fenugreek, flaxseed, garlic, ginger, Holy basil, lemongrass, licorice, mint, mustard seed, nutmeg, oregano, parsley, rosemary, saffron, tamarind, turmeric to deter cancer.
Here are three spices and herbs that help combat breast cancer and taste good, too.
Turmeric
Turmeric has antioxidant, anti-tumour and anti-inflammatory activity. Curcumin, the main active ingredient in turmeric, helps to prevent the formation of a blood supply to cancerous tumours so that they aren't able to grow. It actively targets stem cells of various cancer lines (brain, head, neck, breast, lung, colorectal, pancreatic) that may be resistant to chemotherapy. Curcumin reduces the growth of both hormone-dependent and hormone-independent breast cancer cells.
Have one teaspoon or more of turmeric powder daily. Absorption is best when heated with oil and taken with black pepper, so consider adding it to stir-fries and soups.
Greek Sage
Greek sage (Salvia triloba) contains the highest amount of ursolic acid (next highest are rosemary, lavender, winter savory, thyme), which is antimicrobial, anti-tumour and anti-inflammatory. It inhibits the growth of Candida, staphylococci, and Epstein-Barr virus and is active against many forms of cancer.
Consider growing your own Greek Sage and using it in tea.
Rosemary
Rosemary contains the essential oil eucalyptol, which helps to kill Candida albicans, bacteria and parasites. It also contains ursolic acid which inhibits breast cancer cells. Rosemary contains a phytochemical called a quinone that acts to neutralize carcinogens. An extract of rosemary leaves increased the 2-hydroxylation of estradiol and estrone by 150% in mice to form more of the "good" C-2 estrogen and decreased the formation of the "bad" C-16 estrogen by 50%. It also increased the linking of estradiol and estrone to form the glucuronide complex in the liver, allowing estrogen to be eliminated more effectively. Thus rosemary can protect women from estrogen related cancers.
Grow rosemary indoors and pour boiling water over a sprig to make tea.
Yogi Tea
Here's a recipe for YOGI TEA, with cloves, cardamom, cinnamon and peppercorns. You'll love it!
For each serving:
10 oz water
3 whole cloves
4 whole green cardamom pods, cracked open
½ cinnamon stick
4 whole black peppercorns
½ cup organic soymilk or other milk
2 slices of fresh ginger root
¼ tsp black tea, such as Jasmine
Make at least four cups at one time. The measurements may be adjusted to your taste, but only slightly. Do not vary too far on the cloves or cinnamon.
Bring the water to a boil. Add the cloves, cardamom, peppercorn and cinnamon.
Boil for at least 30 minutes, then turn off heat, add the black tea and let steep for five minutes. Stir in the soy milk and briefly bring to a boil. When it reaches a boil, immediately turn off the heat source. Strain and serve with honey or maple syrup.
Instead of adding the milk immediately, the spice liquid may be stored in the refrigerator until you are ready to drink it. Then, heat up the tea and add the soy milk.
Do you have a spicy favourite vegan recipe? Share it with us!
References:
Christine M. Kaefer, John A. Milner, The Role of Herbs and Spices in Cancer Prevention. J Nutr Biochem. 2008 Jun; 19(6): 347–361.
Aggarwal BB, Shishodia S. Suppression of the nuclear factor-kappaB activation pathway by spice-derived phytochemicals: reasoning for seasoning. Ann N Y Acad Sci. 2004 Dec;1030:434-41.
Van Waes C., Nuclear factor-kappaB in development, prevention, and therapy of cancer. Clin Cancer Res. 2007 Feb 15;13(4):1076-82
Carlsen M et al. The total antioxidant content of more than 3100 foods, beverages, spices, herbs and supplements used worldwide. Nutrition Journal 2010,9:3
Zang S, Liu T, Shi J, Qiao L. Curcumin: A promising agent targeting cancer stem cells. Anticancer Agents Med Chem. 2014 May 21.
Kim KH, Seo HS, Choi HS, Choi I, Shin YC, Ko SG. Induction of apoptotic cell death by ursolic acid through mitochondrial death pathway and extrinsic death receptor pathway in MDA-MB-231 cells. Arch Pharm Res. 2011 Aug;34(8):1363-72
Take the Breast Health Challenge!
Spice up your life and take a photo or make a video of you doing it, and post on your Facebook page, Youtube or Instagram with the hashtag #breasthealthchallenge between Oct 1-31. Challenge your friends to do the same.
Sign up to receive daily tips in October:   Sign Up
Tell us about how you include flaxseeds in your diet in the comments section below. Let's share what works!
Upcoming Programs
For upcoming Healthy Breast Programs see http://mammalive.net/upcoming-courses/