Remove outdoor shoes each time you enter your home, to reduce indoor pollutants.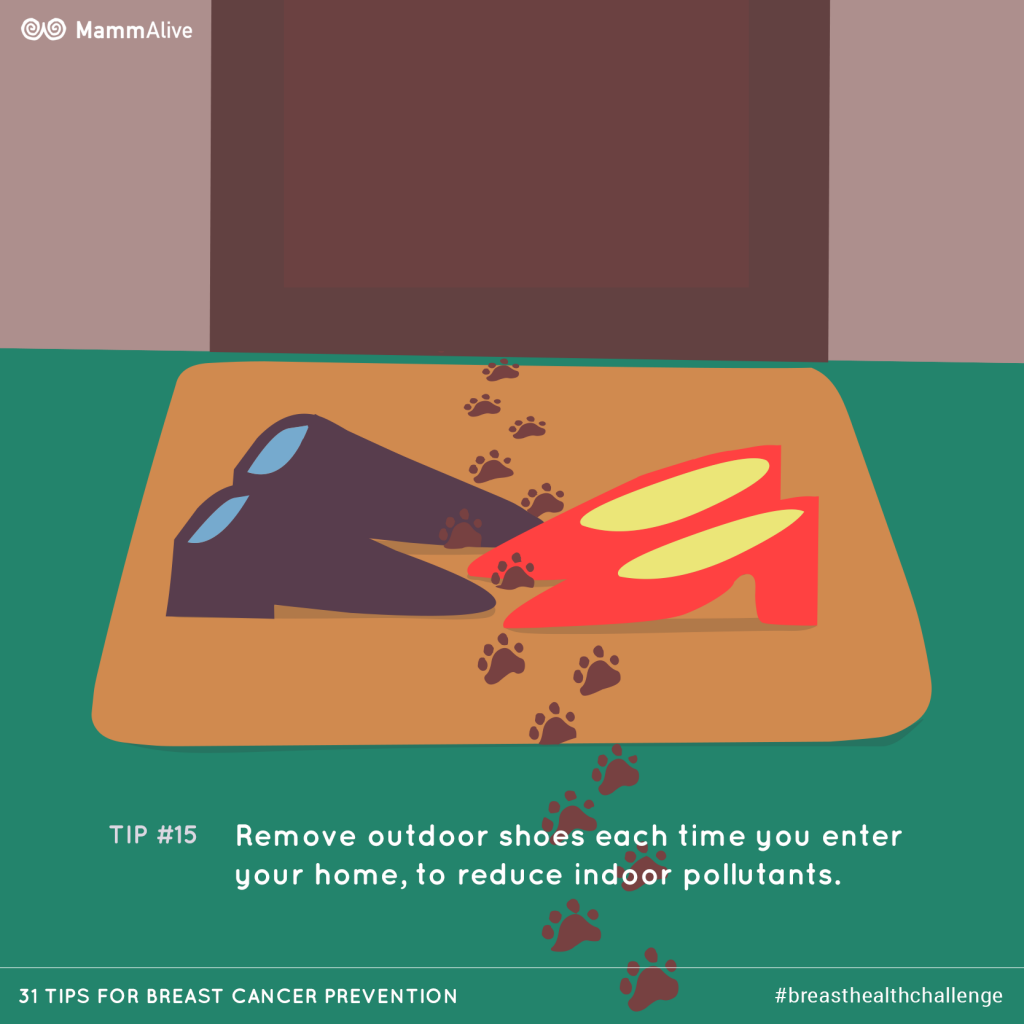 Have you ever wondered what you might be tracking into your home on the bottoms of your shoes? Think about it. Outdoor pollutants can migrate inside on the bottoms of your shoes, from contaminated dust and soil, or from the wind. In the U.S., almost a billion pounds of pesticides are used annually.
Who is Most at Risk?
If you live in an industrial area (most big cities), a mining town, an agricultural zone, or near a nuclear power facility, coal burning plant, plastics factory or golf course, you could be tracking pesticides, toxic metals such as cadmium, mercury, aluminum, lead and arsenic, plastics or radioactive particles into your home.
If you have pets or toddlers who spend time low to the ground, their exposure will be higher.
A 2013 Australian study found that women who reported noticing "pesticide spray drift" in the agricultural communities when they were younger were more likely to be diagnosed with breast cancer when they were older.
An important Canadian 2012 study found that certain occupations exposed women to higher amounts of carcinogens and hormone disrupting chemicals. If this occurred over a 10 year period, then the incidence of breast cancer increased in these women. Occupations that had the highest risk were: 1) agricultural workers (exposed to pesticides); 2) women who worked in bars or casinos (increase in alcohol); 3) automotive plastics manufacturing (bisphenol A and PVC); 4) food canning (bisphenol A); metalworking (toxic metals). Premenopausal breast cancer risk was highest in women who worked with automotive plastics and food canning.
A heath survey conducted in Hanford, Washington between 1944 and 1995, determined that the population of people who lived downwind from a plutonium production site had increased cancer risk, including cancer of the breast. The study concluded that the excess cancers may be associated with radioactive contamination of food, water, soil, and/or air, and proposed that there could be a synergistic effect with agricultural toxins.
What to Do?
Have a "no shoes" policy inside your home and vacuum and wash floors weekly if not daily.
Invest in an infrared sauna to detox your lifetime burden of environmental chemicals through sweating. We estimate that you can eliminate 90% of your body burden with 150 hours of sweating. The sponsor of this tip, SaunaRay, makes excellent saunas.

References:
Noticing pesticide spray drift from agricultural pesticide application areas and breast cancer: a case-control study
Breast cancer risk in relation to occupations with exposure to carcinogens and endocrine disruptors: a Canadian case-control study.
Cancers among residents downwind of the Hanford, Washington, plutonium production site.
Occupational histories of cancer patients in a Canadian cancer treatment center and the generated hypothesis regarding breast cancer and farming.
Take the Breast Health Challenge!
Keep your floors free of contaminants tracked in from the outside and take a photo or make a video of you doing it, and post on your Facebook page, Youtube or Instagram with the hashtag #breasthealthchallenge between Oct 1-31. Challenge your friends to do the same.
Sign up to receive daily tips in October:   Sign Up
Let's share what works!
Upcoming Programs
For upcoming Healthy Breast Programs see http://mammalive.net/upcoming-courses/